Altech Electronics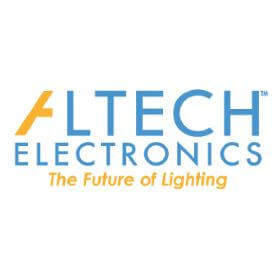 Altech has been committed to providing premium products with value pricing for over 30 years. As one of the leaders producing LED fixtures, they know what they are doing. The sales staff is well-trained to focus on the needs of the customer and make the process of retrofitting traditional lighting to LED extremely easy for their customers. Their engineering staff is committed to the mission of manufacturing the highest quality fixtures in the industry at the most reasonable value pricing possible.
This company is confident that their products will shine for over 100,000 hours and provide the highest lumens per watt in the industry, therefore they offer a 10 Year Wrap-Around Warranty. This way you know that if a product fails, you have an experienced company to rely on for support. The popularity of Altech's products among contractors is due to the high efficiency of their products and the savings they bring compared to their competitors.
While meeting the high standards of the industry, Altech is also focused on a greener, brighter future. By offering energy efficient LED products, Altech plays a major role in helping the world reduce the amount of carbon dioxide emissions, limit environment toxicity and resource consumption, and reduce global warming. Altech also believes in spreading education about their low-cost and sustainable lighting solutions and the benefits everyone can receive from them.
A new product to watch for at Altech is the new Area Light fixture that generate over 70,000 lumens and include the famous 10 Year Wrap-Around Warranty. These fixture are IP67 rated allowing them to stand up to the harshest environments. Another hot product to keep an eye on is the newly designed flood light which offers maximum reflection technology that reduces glare and still produces 175 lumens per watt.
With the cooperation of all its staff, Altech strives to bring effective returns on investment for each project. The passion of all branches of the company makes it clear that Altech is focused on providing the best for its customers.
All Altech Electronics Products