Cyber Tech Lighting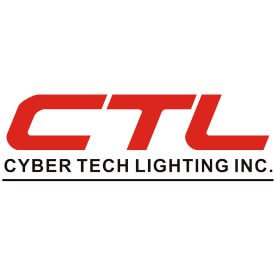 Cyber Tech Lighting has been in the lighting industry for over 40 years and has been committed to the craftsmanship of quality lighting since then. In every step of the production process, Cyber Tech Lighting continues to exceed way past the standards of the industry, producing state of the art and efficient products using LED technology.
Cyber Tech Lighting has been able to design new fixtures which not only benefit the environment, but the marketplace as well. Cyber Tech Lighting is committed to you. To help you grow and support your business, they have moved to a bigger headquarters, doubled their staff, opened a whole new distribution center, and developed over 100 new products requested by their customers. Cyber Tech Lighting works as fast as possible to make sure their customers receive what they need in a reasonable amount of time. They have distribution centers strategically located across the country to provide fast shipping to their customers nationwide.
A few of Cyber Tech's new products are the Pivoting Cut Off Wall Light, the Dual Color Under Cabinet Light, and the Low Voltage 0-10 Volt Dimmer. The Pivoting Cut Off Wall Light pivots up to 90 degrees and can be used in damp areas, therefore it is perfect for lighting up doors or signs. It has 30 watts and a lumen output of 3300 with a color temperature of 5000K. Since it lasts up to 50,000 hours you can be sure that it will shine for many years. The Dual Color Under Cabinet Light is available in many different sizes including 9in, 12in, 18in, 24in, 33in, and 40in. Also, these lights are linkable for up to 80 watts together so they can provide even more light to over or under cabinet spaces in your kitchen, office, or studio. Lastly, the Low Voltage 0-10 Volt Dimmer can be used for single pole or a 3-way connection and comes in white.
The expertise and experience of Cyber Tech Lighting reflect how passionate they are about serving their customers to the best of their ability. With cooperation of all of their committed staff, Cyber Tech Lighting will continue to serve you and your business with the highest quality and innovative products.
All Cyber Tech Lighting Products