LEDone Distribution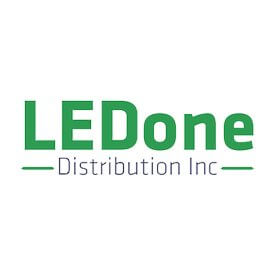 LED One is one of the top green lighting solutions provider for any commercial or residential application. LED One provides the highest quality lighting for individual commercial use, contractors, businesses, lighting channels, and import customers. With core values of superior quality, performance, and efficiency LED One produces the most innovative fixtures on the market.
LED One makes sure that every single one of their products brings you immediate energy and maintenance savings so that you see their products as valuable as they do. Starting from the design process, LED One keeps the sustainability of their products in mind, as none of their products contain any traces of mercury and are fully recyclable. Also, many of their products are eligible for retrofit and new construction rebates which will lower the initial investment for new energy efficient lighting.
The LED One LED Flood Lighting with Daylight Sensor is essential for general flood lighting, security lighting, rooftop lighting, corridor lighting, and can be used as a high bay. This easy-to-install product comes in 150 watts with a 19,000 lumen output and a 5,000K color temperature. This fixture has no UV and is available with a daylight sensor. The LED One Dimmable LED Wall Pack is perfect for both industrial and commercial applications. Some applications include parking decks, apartments, shopping malls, sports complexes or fields, roadways, educational facilities, or paths. With high-quality tempered glass and heavy-duty die-cast aluminum housing, this wall pack is IP65 rated. This product comes in wattage selections of 40, 60, 90, and 120 with lumen outputs ranging from 4,843-13,314 and a 5,000K color temperature. Both LED One products comes with a working life of 50,000 hours and a 5-year warranty.
All LEDone Distribution Products