Hi-Lite Manufacturing Co.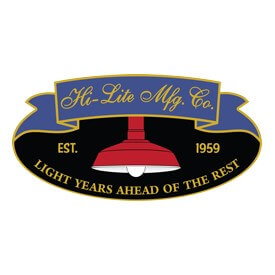 Hi-Lite Manufacturing Company has been in business since 1959. It is family-owned and operated by Mrs. Ohai and her two sons, Jeffrey L. Ohai and Reynolds Ohai II. Born of ingenuity and ambition, Hi-Lite achieved success through attention to detail and a firm determination to only manufacture the highest quality products. Specializing in RLM lights, Hi-Lite has built its reputation as a premier lighting manufacturer by using only the finest raw materials to craft inspirational designs, all while providing unparalleled service.
Operating out of a 200,000-square-foot facility in sunny Southern California, Hi-Lite Manufacturing is a complete light fixture manufacturer. In other words, they are not simply in-house assemblers, instead they are a true American manufacturer with full-blown fabrication capabilities. Hi-Lite Manufacturing has their own production machinery with their very own tool and dye department and a paint and finishing department. This allows them great flexibility with their designs, but most importantly, it gives you the unique ability to have your custom fixture designs brought to light. From a shop to a bedroom, Hi-Lite has your application covered.
All Hi-Lite Manufacturing Co. Products