Recessed lights are all about adding space to your room.
Actual space, yes, but also visual space, i.e., how breathable and airy your room appears to the eye's periphery.
As their essential feature, recessed lights are installed inside—as opposed to on—the surface of your ceiling, walls, or floor.
A linearly designed recessed light fixture, in particular, won't just add visibility; it'll also infuse an extra sense of ambiance and lightness into the room.
Table of Contents
Recessed linear lights are perfect for rooms that have lower ceilings (e.g., offices, kitchens, lounges), and they consist of three main parts:
Bulb: The linear luminaire that beams out light
Trim: The visible, decorated section which includes shades, reflectors, and baffles
Housing: The containment unit in which the linear fixture sits
If you've been thinking about investing in these modern, sleek fixtures, you're going to want to read on—we've compiled a list of four neat recessed linear fixtures to get you started.

1 - LED Linear Recessed 66 Wall Wash, 8-ft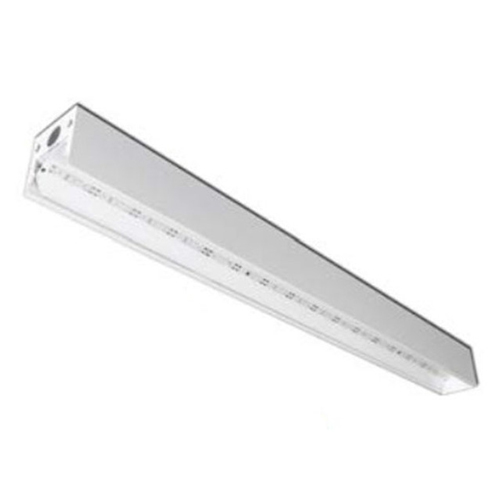 8-Foot 6"x6" LED Linear Recessed Wall Wash, 48W or 96W
This specification-grade, modular linear lighting luminaire comes in a geometric 6-inch by 6-inch shape.
Features
The LED Linear Recessed 66 knockouts on the end of the fixture allow for continuous wire-way mounting. Leveling lugs are available to support regular recess units. Other features include:
Finish: All metal parts are electrostatically sprayed with a high-quality baking enamel that ensures at least 90% reflectivity.
Diffusers: Various lenses lie on the side flanges of the fixture. Six and eight-foot units have a steel mullion to join two individual diffusers.
Wattage: Available in both 48W OR 96W options.
Accessories & Options
The Recessed 66 series are available for T-Bar installation without a flange or for flanged construction for sheetrock installation.
Pendant and surface mount configurations allow direct light only, indirect light only, or direct light with uplight through slots. They can also be used with cable or rigid stem kits.
The surface and pendant fixtures can be painted in a variety of finishes for the right look for your application. Its housing is die-formed and welded with heavy gauge cold rolled steel.
Benefits & Applications
The 66 can be used with emergency ballasts, cord-sets, whips, occupancy sensors, hang kits, and wire guards.
It's ideal for indoor use where individual or continuous lighting is desired for general or perimeter lighting applications.
2 - S4 Foot LED Recessed Linear Light With Flange, 42 Watt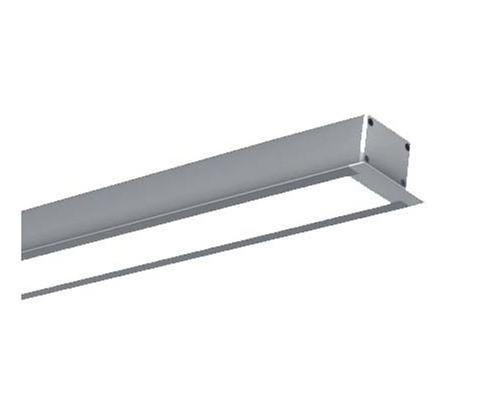 4 Foot SR Series LED Recessed Linear Light with Flange, 42 Watts
This SR Series fixture is an eye-catching selection of LED Linear Lighting channels that can be recessed mounted individually or in a continuous run that puts a line of light where you want it. These lights have unmatched style and energy efficiency.
Features
The 4-ft SR makes use of an anodized aluminum channel that is lightweight, has small dimensions, and dissipates heat well. Its features include:
Splines: Joiners are available to connect the channels. The snap-in frosted lens is specially formulated for smooth illumination of the LED Tape.
Back raceway: This provides a heat sink for the LED Tape whose channels are factory or eld cuttable to any length.
Electrical: The SR's high-powered and high-quality LED Tape is flexible and designed for high-temperature-resistant PCB.
Options & Accessories
Utilizing the latest in LED technology, the high-powered S4 is sized exactly to the specific channel it needs to fit. It provides micro-illumination that will not only highlight the area around it beautifully, but say "look here."
Each linear channel is available in popular sizes (four or eight feet) or can be custom sized for your specific application. They can also be joined together for longer runs.
Each channel also requires a remote 24-volt driver sized to the wattage of the channel to power the LED Tape. This rectangle channel utilizes a snap-in, drop-down lens to provide 534 lumens per foot, using less than 10.5 watts.
Benefits & Applications
The S4's versatility and clean styling make it an ideal choice in many applications.
It can be used for general lighting applications in both commercial and residential applications, for circulation spaces, high-impact areas, and residentially over tables, kitchen islands, and home offices.
3 - LED Recessed Linear 48 Watt, 4-ft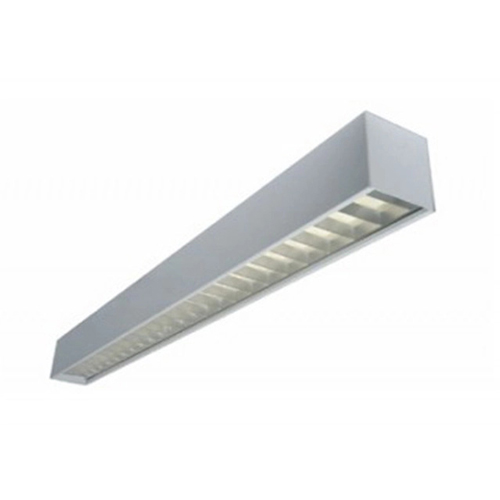 4-Foot LED Recessed Linear 48 Watt
Features
The 48-watt LED linear light is available for installation on the surface (suspended) or recessed. Its pendant and surface mount configurations allow direct light only, indirect light, or direct light with uplight through slots.
Materials: Housing is die-formed and welded using heavy gauge cold rolled steel, which means that the fixtures can be hung in various types of recessed ceilings.
Finish: All metal parts are cleaned and treated with a three-stage phosphate coating and sprayed with a high-quality white baking enamel.
Diffusers: Six and eight-foot units have a steel mullion to join two individual diffusers. A baffled louver is available to shield glare.
Benefits & Applications
For use in indoor applications where individual or continuous lighting is desired for general or perimeter lighting applications.
4 - Recessed T-Bar X1 LED T8 Linear Light, 4x18W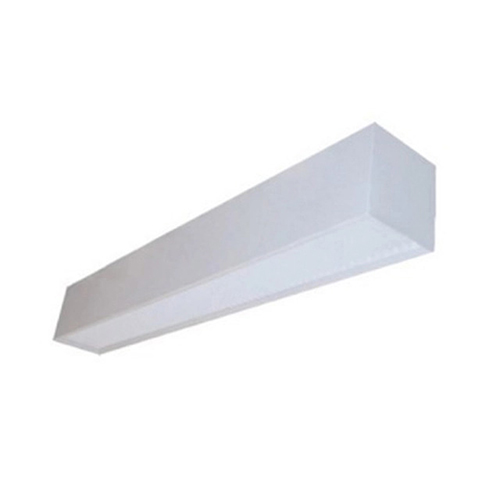 8-Foot Recessed TBAR X1 LED T8 4 Lamp Included 4x18W
This is a linear 4x4 recessed mounted fixture for distinctive architectural lighting plans.
Features
Housing: Die-formed and welded 22-gauge cold-rolled steel. Knockouts on ends allow for continuous wireway mounting.
Diffusers: The fixture accepts various lenses or louvers. Both 6-inch and 8-inch units have a steel mullion to join two individual diffusers.
X1 LED: The most economical, practical, and user-friendly version of LED that offers energy savings, quality of light, long life, and hassle-free maintenance.
Beam: A 140-degree aluminum beam base with glass cover operating.
Options & Accessories
The T8 LED lamps are available in 2 or 4-ft sizes in different wattage, lumens, and color temperature options. It is specially designed with dimming lamps that require an external driver that runs 1 or 2 lamps. More than 2 lamps require multiple external drivers.
For emergency options, the standard X1 lamp requires an inverter or an emergency kit that includes an LED array, battery, and driver.
These 4x4 Series fixtures can be installed individually or in group patterns, and are available with or without flanges.
Benefits & Applications
Ideal for storage rooms, offices, conference rooms, retail reception areas, hallways, education facilities, hotels, corridors, saloons, libraries, meeting rooms, conference halls, and restaurants.
Frequently Asked Questions
Does it matter if a recessed linear light is meant for new construction or a remodel?
Yes, and quite a bit. It's going to determine not only which brand of linear light fixture is the right one for you, but also the amount of time and money you're going to spend.
Consider the elements in this table to get an idea of what pros and cons exist for new construction or a remodel:
Type of Housing
Pros
Cons
New construction installation

Less expensive
Wider variety of trims to choose from

Some what bulky
Need joist-attachments
Requires attic access for wiring

Remodel installation

Less bulky
Only requires clip re-attachment
Much quicker and space-efficient process

Typically more expensive
Fewer available options for the trim
Are there any code requirements to worry about?
Yes. The National Electric Code requires that recessed fixtures be rated IC (meaning insulation-compatible) if they're installed anywhere short of 3-inches from your home's insulation—otherwise you risk having a fire hazard.
Houses that are not IC-rated should at least be certifiably airtight (rated "AT" to mean airtight fixture). This is especially true if they're meant to be installed on the top-most floor or a roof-adjacent ceiling.
See the chart below to determine the kind of protection your fixture will need:
| | | | |
| --- | --- | --- | --- |
| | Airtight (AT) | Insulation Compatible (IC) | Non-IC Rated |
| Unfinished attic | | | |
| Insulated ceiling | | | |
| Uninsulated ceiling | | | |
How important is the trim when choosing a fixture?
Quite important. While most recessed lights are designed to be unobtrusive, you still need to pick out one whose trim appropriately complements your space. Pay specific attention to the available metal range and its finish (plain or decorative).

Experts in Recessed Linear LED Fixtures
Recessed lights are meant for more than just space efficiency. If executed with expertise, these lights can give a room a distinct sense of style, subtlety, and sophistication.
That's why, at RelightDepot, we always work with an experienced network of independent local electrical contractors and lighting installers.
This allows us to offer cost-effective turnkey lighting retrofit solutions and ensures that you will have prompt service before, during, and after your project is complete. We also provide REAL value engineered quotes for new construction and design projects.
RelightDepot's background in lighting and experience with e-commerce helps us streamline the process of finding and buying all of the light fixtures your project calls for.
Regardless of the size of your project, you can expect:
Prompt Personal Service
Attention to Detail
Detailed Competitive Pricing
Don't take it from us, though:
"Julie in Sales was the best and Pat the Lighting Support Engineer was on top of the situation. I will continue to use Relight for all projects in the pipeline."
— Mike C., Maryland
April 22, 2022 by Ray De Varona.