You might already know that low bay lights are best for ceilings 12–20 feet high, while high bay lights are used in ceilings higher than 20 feet. But that's only half the story.
While it's true that the mounting height of the fixtures is the deciding factor, both high bay and low bay lights have unique design features you need to consider for each application.
These include:
Beam angle
Lumen output
Mounting type
Lighting technology
High and low bay lights also come in a variety of shapes, sizes, and Kelvin color temperatures. Will you install round, linear, grid-mount, or surface-mount high bay lights?
This guide will help you to choose the best option for your application as we review some of the best high bay and low bay lights.

Table of Contents
What Are High Bay and Low Bay Lights?
Bay lights are high-powered light fixtures designed to be installed on high ceilings, typically 12 feet high or more. The designation "high bay" and "low bay"defines the ideal height and specific applications where each type of bay light can be installed.
High Bay Lights
High bay lights are commercial lighting fixtures designed to be mounted at heights of 20–45 feet. They are common in buildings with high ceilings such as warehouses, industrial facilities, shopping malls, and offices.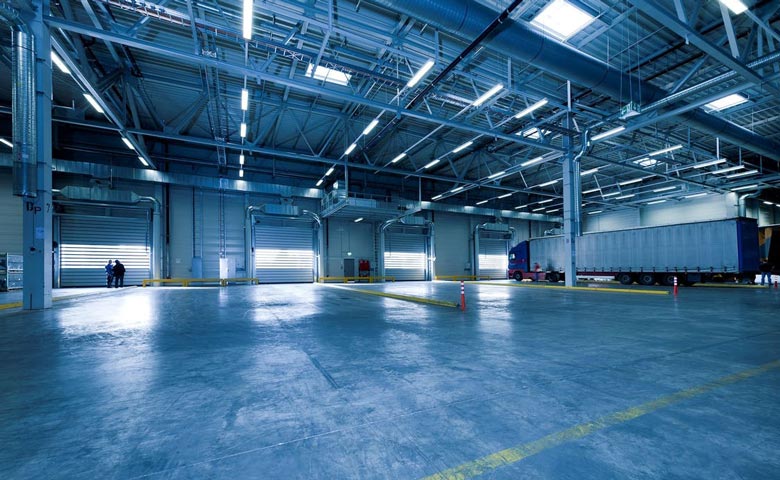 Such large and tall spaces require powerful lights to provide sufficient illumination and light distribution. High bay lights have a few unique features that help them achieve this:
A high lumen count, usually over 15,000 lumens
A narrow beam ranging from 60° to 90°, which lets them concentrate light in a smaller area
A deep reflector that directs light downward and slightly outwards
Longer and larger fixtures to cover large spaces
A whiter color temperature of 4000K to 5000K which provides sharp contrast and high visibility
Because of their design, high bay lights are more expensive and use more energy than low bay lights. Different options are available including LED fixtures, metal halide lamps, T8 fluorescents, and high-intensity discharge (HID) lamps.
For modern lighting, LED high bay lights are the best solution for large commercial and industrial spaces. The best LED fixtures have an efficiency of more than 85% (inclusive of heat losses), which makes them a highly affordable and green option.
The table below highlights various types of LED high bay lights and their features.
Fits into standard 2X2 recessed ceiling grids
Output: 13,859–20,742 lumens
Available in 3000K to 5000K color temperature
Power rating: 90–135 W
Various lenses available

Linear LED fixture fluorescent fixtures in large spaces
Power rating: 111–321 W
Output: 15,154–45,120 lumens
Color temperature: 4000–5000K

Output: 36,000 lumens
Color temperature: 5000K
Power rating: 240 W
Die-cast aluminum housing
Different lens available with a 60/90/120 degree beam angle
Optional sensor available
As you can see from the table, high bay light fixtures vary in shape and size. The most common ones are round LED (UFO-type), linear, architectural, and grid-mount fixtures.
Different mounting options are available, though the most common are suspended, recessed, and surface-mount fixtures. The type you choose will depend on your client's preferences.
Low Bay Lights
Low bay lights are fixtures designed to be installed at heights ranging from 12 to 20 feet. Below 12 feet, lighting fixtures such as wall packs and floodlights are common.
The height at which low bay lights are installed requires them to be relatively powerful so that they can illuminate large areas while reducing glare. That's why low bay fixtures are designed to have:
Medium power ratings of 60–100 W or a lumen output of 8,000 to 20,000 lumens
Wide beam angles to spread light over large areas, usually 120°–150°
Shallow and diffused lenses that spread light while scattering it. This reduces glare and improves the quality of illumination over horizontal and vertical surfaces
Low bay lights can have warm to cool Kelvin color temperatures, depending on the application
Due to their lower mounting height, low bay lights demand a more aesthetically pleasing design mount
Low bay lights are common in commercial facilities with low ceilings, including retail shops, offices, parking garages, and gas stations.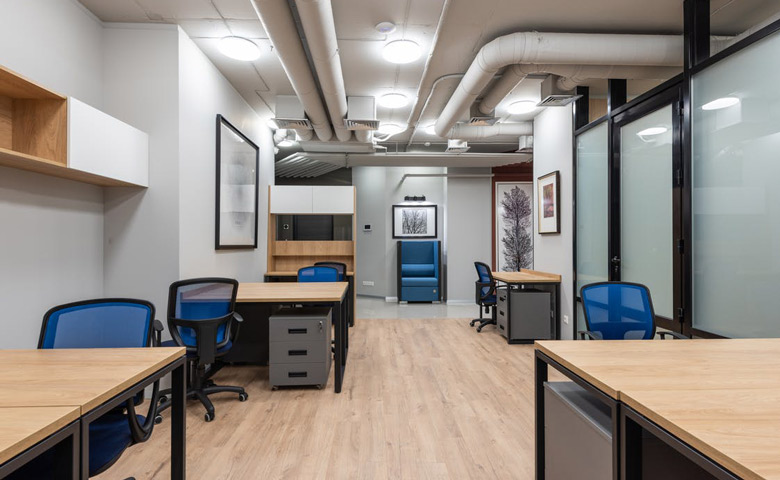 Just like high bay lights, low bay fixtures can also be a metal halide, HID, fluorescent, or LED. You can choose from a wide range of shapes, sizes, power outputs, and mounting options.
The table below shows a few examples of low bay lighting fixtures.
Power rating: 127–272 W
Output: 6,450–13,500 lumens
Color temperature options, 3000–5000K
Best for medium to high-ceiling mounting (15 ft to 40 ft)
Optional features: wire guards, occupancy sensors, hangers

Output: 4,375 lumens
Color temperature: 5000K
Perfect for road and area lighting
IP-65 rated for outdoor lighting

Power rating: 30 W
Output: 4,701 lumens
Color temperature: 4000K and 5000K
Dimming and control capabilities
Suitable for installation in damp areas

Power rating: 28–90 W
Output: 2,800–9,000 lumens
Color temperature: 3000–5700K
Dimmable
Moisture and dust proof
Perfect for low bay and canopy installation in indoor or outdoor spaces
Expert Tip: Manufacturers consider the mounting height of light fixtures, not the ceiling height. This is an important difference when it comes to suspended fixtures, so always check the manufacturer guidelines for guidance on minimum and maximum mounting heights.
How to Choose the Right High or Low Bay Fixtures
When lighting a commercial or industrial space, ensuring good illumination is paramount for the sake of safety and security. Light levels, light distribution, and intensity influence the comfort of employees and customers in that area, potentially affecting their actions.
One study on the effects of lighting on consumer behavior in a retail environment concluded that contrast and color temperature affect the attention, intention, and pleasure of customers.
This is why installation requires careful planning with regard to the type, number, spacing, and mounting of the fixtures you choose to install. In the video below, an expert from LED manufacturer Polaris explains how some of these factors come into play.
Lighting designers use CAD plans and sophisticated software, such as DIAlux, to calculate lux (lumens per square foot), but there are easier ways of doing so.
One good rule of thumb is that two lumens per square footage is sufficient for standard lighting, while three lumens per square foot of space is enough for bright lighting.
Another rule of thumb relates to mounting height and spacing between fixtures: high fixtures need more powerful lights with a narrower beam angle, and vice versa. You also need optimal spacing to achieve cross-lighting and to avoid shadows and glare.
The following table shows suggested figures when it comes to the power and mounting distance of both low and high bay lights.
Mounting Height
Suggested LED Wattage
Lumen Output
Spacing Between Fixtures
12–15 ft
30–40 W
5,000–15,000 lumens
12–14 ft
20 ft
90–150 W
22,000–35,000 lumens
15–25 ft
25 ft
180–200 W
30–45 ft
250 W
35,000–47,000 lumens
30–40 ft
There are a few other factors to consider when choosing low and high bay lights. Ask yourself the following three questions to help you make the best choices.
Question 1. What Light Technology Is Needed?
Older lighting technologies, such as metal halide, fluorescent, and high-intensity discharge (HID) lamps, are still very popular due to their high lumen output. However, they have comparatively poor energy efficiency, require a lot of maintenance, and can be bad for the environment when toxic gasses such as mercury vapor are used.
LED lights have recently overtaken these older fixtures in popularity because of their significantly higher energy efficiency. They also last much longer, require minimal maintenance, and produce better quality illumination.
Question 2. What Type of Fixture Is Needed?
Various LED bay light shapes and sizes will suit different applications. For example, linear fixtures are long and narrow, which lets you cover a larger space with fewer fixtures. They are also perfect for long narrow spaces such as production lines, aisles, and walkways.
Round or UFO-type LED fixtures are used for general-purpose high bay lighting. Their shape allows them to be mounted from a single point, and they tend to have uniform light distribution. They're perfect for places where feature lighting is important, such as in restaurants and retail spaces.
Other shapes and designs include rectangular or grid-mount lights for offices and architectural fixtures mounted where aesthetics are important.
Question 3. What Type of Mounting Is Needed?
The choice of installation options, such as recessed, surface-mount, or suspended mounting, falls to you as the electrical or general contractor.
In most cases, however, suspended lighting is used in industrial applications, while recessed fixtures provide a clean flush look that is perfect for low bay commercial spaces.
When retrofitting existing fixtures with LEDs, you will be constrained to using the same shape and size of fixtures as the existing ones.
Do You Need Help With Lighting Layout or Quotes?
Here at RelightDepot, our lighting consultants have a strong background in the lighting industry, spanning years. This helps us understand your needs as a contractor as well as the needs of your clients.
If you're having trouble with the lighting design or layout of your project, you're welcome to consult with our team. We'll help you to meet your lighting goals no matter what equipment you choose. As the Electrical Contractor Magazine puts it,
"Light is more important than the devices that deliver it … good design starts with goals, not equipment."
— Lighting 101, EC Magazine
We also understand that budget constraints can be a concern when choosing lighting fixtures. To that end, we provide value-engineered quotes to help you stay within your budget and reach your lighting design goals.
Whether you're a contractor or a project manager, call us today at 888 548 6387 and let us help you bring your lighting installation project to a satisfactory end.
Frequently Asked Questions
What's the difference between high bay and low bay lighting?
The deciding factor between high and low bay lighting fixtures is the height at which they will be mounted. Both types of lights have special design factors that help them meet their lighting goals, including:
Beam angle
Type of lens
Wattage/lumen output
Size, shape, and mounting options
How do I choose a high bay light?
In addition to ceiling height, there are many other factors to consider when choosing both high and low bay lighting fixtures. These include energy efficiency, shape of fixture, light color temperature, and cost.

How many high bay lights do I need?
To determine the specific number and type of lighting fixtures you need, you may have to consult a lighting designer to work out the lux requirements.
A simpler method is to figure out the square footage of the space you're working with and multiply it by the lux requirements in foot-candles. This will give you the total number of lumens you need. Check out this guide to learn more.
May 9, 2022 by Ray De Varona.