Saylite - Texas Fluorescents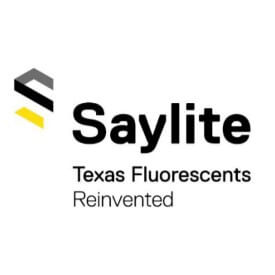 When you are in the market for LED commercial or industrial lighting fixtures, there's a big chance that fast-growing Saylite | Texas Fluorescents Reinvented has a product to suit your needs. They supply a wide selection of the highest quality fluorescent and LED lighting products to fit a multitude of lighting applications and at the best possible prices to please budget-concious customers.
Versatile and fast-turnaround assembly operations, increased fabrication capabilities, and outstanding component inventory give Saylite the ability to create exactly what the customer needs and wants and in a short lead-time. Additionally, the majority of products meet the "Made in USA" requirements. Larry Sayah, a local fluorescent assembler, founded the company more than 40 years ago. Now, after rebranding from Texas Fluorescents to Saylite | Texas Fluorescents Reinvented, their multitude of innovative products are being installed by the leading contractors and and energy services companies into small and large projects nationwide.
Some of the highlight of the Saylite catalog are the many options they have for Linear Pendant light fixtures. These range from .75" square fixtures all the way to 6" square profiles with many round options as well. Many models provide direct and indirect light and can be configured for continuous runs or even custom shapes. As it continues to expand its facility and its core product line, this US manufacturer will remain a top choice for value priced commercial and industrial lighting products.
Browse the assortment of popular fixtures, linear strips and pendants, linear recessed or surface fixtures, emergency/exit lights, outdoor fixtures, and various other items as well as their conventional fluorescent products. No matter what type of project you're working on, chances are that Saylite can fill every line on your fixture schedule. Our knowledgable staff are experts on the entire Saylite catalog and would be happy to discuss your needs further. We're just a chat, call or email away!
All Saylite - Texas Fluorescents Products